Dedicated To Spreading Wellness
We go beyond massage to elevate your wellness and bring balance to your life
We honor your trust in us and remain present during our bodywork, from the start of your session to the end.
Our appointments aren't back-to-back, which allows our licensed massage therapists time to process each energetic, empathetic session and be present for the next one.
Get Exactly What You & Your Body Wants and Needs
We want to be sure that we pair you with the right treatment, so before we make a recommendation, we ask questions like:
What do you do for work?
What's your stress level?
What activities do you do?
How often are you active?
Where do you feel body tension?
These questions help us understand what you and your body really need.
We provide education during treatments to help you understand the connection between your mind and your body. We feel this connection is essential to help you experience healing and live a better lifestyle.
If you're ready to elevate your wellness and bring balance to your life, come experience the difference with our team today.
Omaha Massage & Healing Arts was founded by Tara Zinn in 2006. She originally offered healing massage from a single treatment room at the Omaha Healing Arts Center. After working on her own for a while, she brought on Julia, a former student and massage therapist. The business expanded to multiple treatment rooms and Julia eventually became the spa manager. Since then, the business has grown to offer a variety of treatments from many skilled healers.
The first location, Omaha Healing Arts Center, is a very sacred space that has been blessed by healers from all over the world. Tara credits the space for much of the business's growth, saying,
"I got to grow and heal while helping others heal in my treatment room. That's been a big part of our growth as a company and as healers in the community. Working in this space provided us with such sacred energy. I could not have grown into this endeavor without that space to be able to heal myself so I could then give more to others."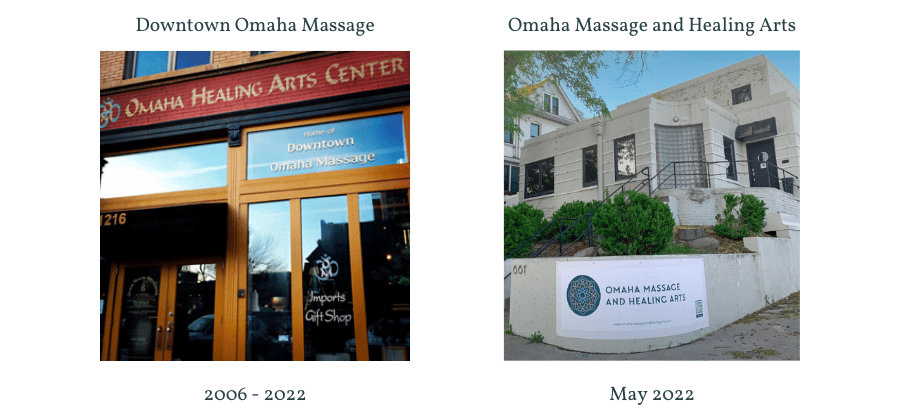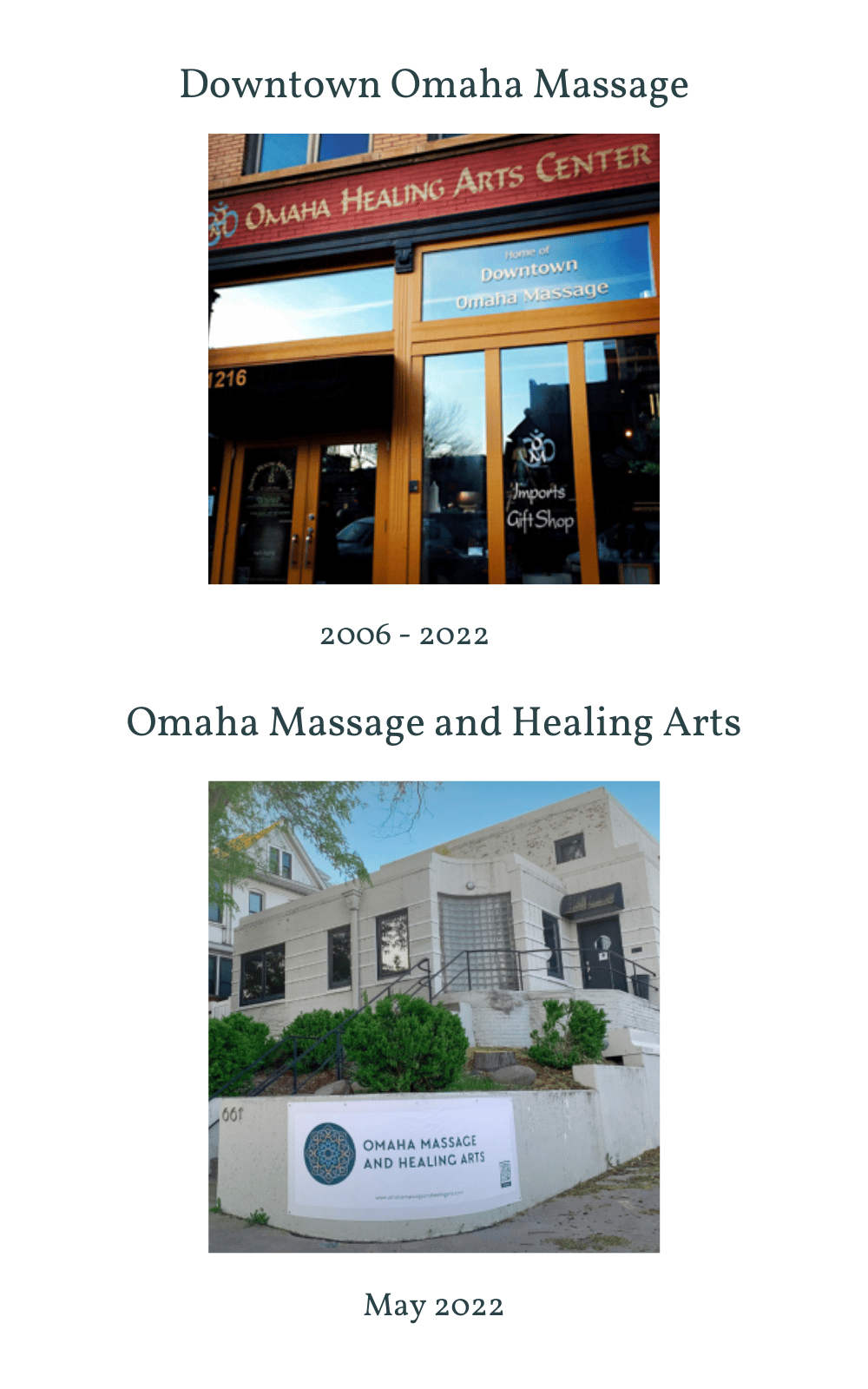 With guidance and encouragement from Sandy Aquila, the Owner and Founder of the Omaha Healing Arts Center, Tara and the team committed to their vision of offering greater healing in the Omaha community. In 2022, they moved to a new location and rebranded the company to honor the sacred space where they started.
Of the rebrand, Tara said, "Bringing 'healing arts' into our new name merges where we began to our current and future vision. It always stays at the forefront of knowing where we came from and knowing how much progress we have made and how much healing we have done. It also lets us continue that legacy forward."
If you'd like to experience healing and be part of our sacred legacy, get in touch to schedule a treatment.